Born and raised in Colorado, Pastor Ken and his family moved to New Hampshire in 2008 to serve the people of The Orchard. A graduate of Colorado State University, Denver Seminary, and Regent University, his education has been enhanced by many years of ministry experience. Pastor Ken and his wife, Helen, have two daughters, Katie and Lindsey. They enjoy their sons by marriage, Scott and Kody, and cherish spending time with their grandchildren. Pastor Ken relaxes by tending to his beehives and fly fishing.
Associate Pastor of Marketplace Ministries
Ryan earned his Bachelors in Political Science from the University of Connecticut and his Masters of Divinity from Gordon-Conwell Theological Seminary. Ordained at The Orchard in 2011, he's been a member of this church since 2002. Pastor Ryan and his wife, Amy, have three growing boys. His interests include music and worship, church and world history, political science and government, Reformed and Biblical theology, economics and finance, yard work, playing drums, and New England sports.
Kevin Kyle is a Navy Chaplain Candidate, working to become ordained and serve as an EPC Chaplain. A graduate of the Virginia Military Institute and Gordon-Conwell Theological Seminary, Kevin has been working in various ministries and organizations while completing his training. He and his wife Megan make their home in Ellsworth, Maine, although Kevin will be living in Londonderry while temporarily serving at Orchard. They love to be outside with their dog, Rocky, and to spend time with family and friends. You'll probably hear Kevin before you see him; he'll be the one singing randomly or talking about the beauty of College Football. Feel free to interrupt him and say hi.
Brian & Tesni met at Geneva College, where they both received Bachelor's degrees in music. Brian went on to graduate with a Master's in Music Education from Gordon College, and he teaches full-time at South Elementary School in Londonderry. Tes' concentration at Geneva also focused on Biblical Studies, and she has a Master's in Professional Writing from New England College. Brian & Tes began to offer their joint experience and heart for worship in The Orchard's Music Ministry during 2015. They were married in 2010 and have two boys, Benjamin and William, one of whom is in heaven. They like watching comedies, being outdoors together, and creating silly songs about daily life.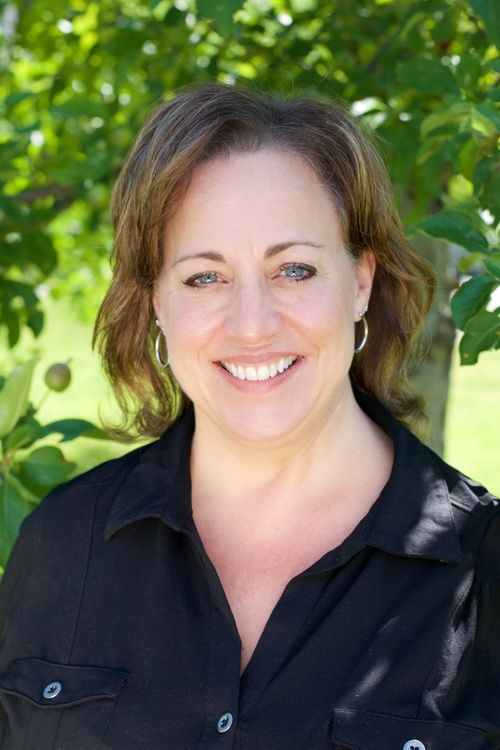 Director of Administration
Having worked in ministry for more than twenty years, Lisa carries out a variety of tasks behind-the-scenes at The Orchard to oversee its ministry efforts and keep things running smoothly. She holds a Bachelor's degree in Psychology as well as a Master's in Elementary Education. She and her husband, Chris, are proud parents of two young adult children. A self-proclaimed cat lady, Lisa loves the ocean, dreams of traveling to Italy, and enjoys reading mysteries.
Leaders of Youth Ministry
Scott & Katie have served The Orchard's middle and high school students since 2015. Scott has a Bachelor's from the University of Alabama and a Master's in Secondary Education from the University of Montevallo. His work experience includes teaching science and coaching sports. He was honorably discharged from the Army after serving as an engineer officer. Scott also has a passion for and professional certification in outdoor education. Katie holds Bachelor's degrees in Photography and Graphic Design from the University of Northern Colorado. Married in 2017, she & Scott are now busy raising their twins, Jack and Lucy. Scott is a gifted woodworker, and Katie has her own photography business.
Tech Director & Youth Ministry Assistant
As Tech Director at The Orchard, Jackson enjoys helping the church focus on it's online presence, while also lending his assistance to the student ministry. In his free time, Jackson enjoys keeping up with the ever-changing internet, as well as listening to and playing music.
Mary has directed business activities and daily operations of The Orchard since 2017. Mary has a Bachelor's degree from the University of Northern Iowa and an MBA from Lake Forest Graduate School of Management. Her broad experience consists of financial analysis, marketing, customer operations, and project management. Mary also actively ministers at The Orchard through GriefShare and the Adult Singles Ministry. In her spare time, she likes to cook, bake, read, and watch old movies, particularly musicals.
Our Elders provide spiritual oversight, direction, and leadership
while entrusting the implementation of that direction to Ministry Leaders and Staff.

Ken Glasier
Ryan Leland
Jason Allen
Susan Gause
Andrew Lemieux
Laura Meyer
Chuck Paradis
Ben Rettig
Lynne Stack
Tom Thibodeau
Lloyd Wagoner
Mike Weber
Ruth Kunyz - Secretary of Board of Elders